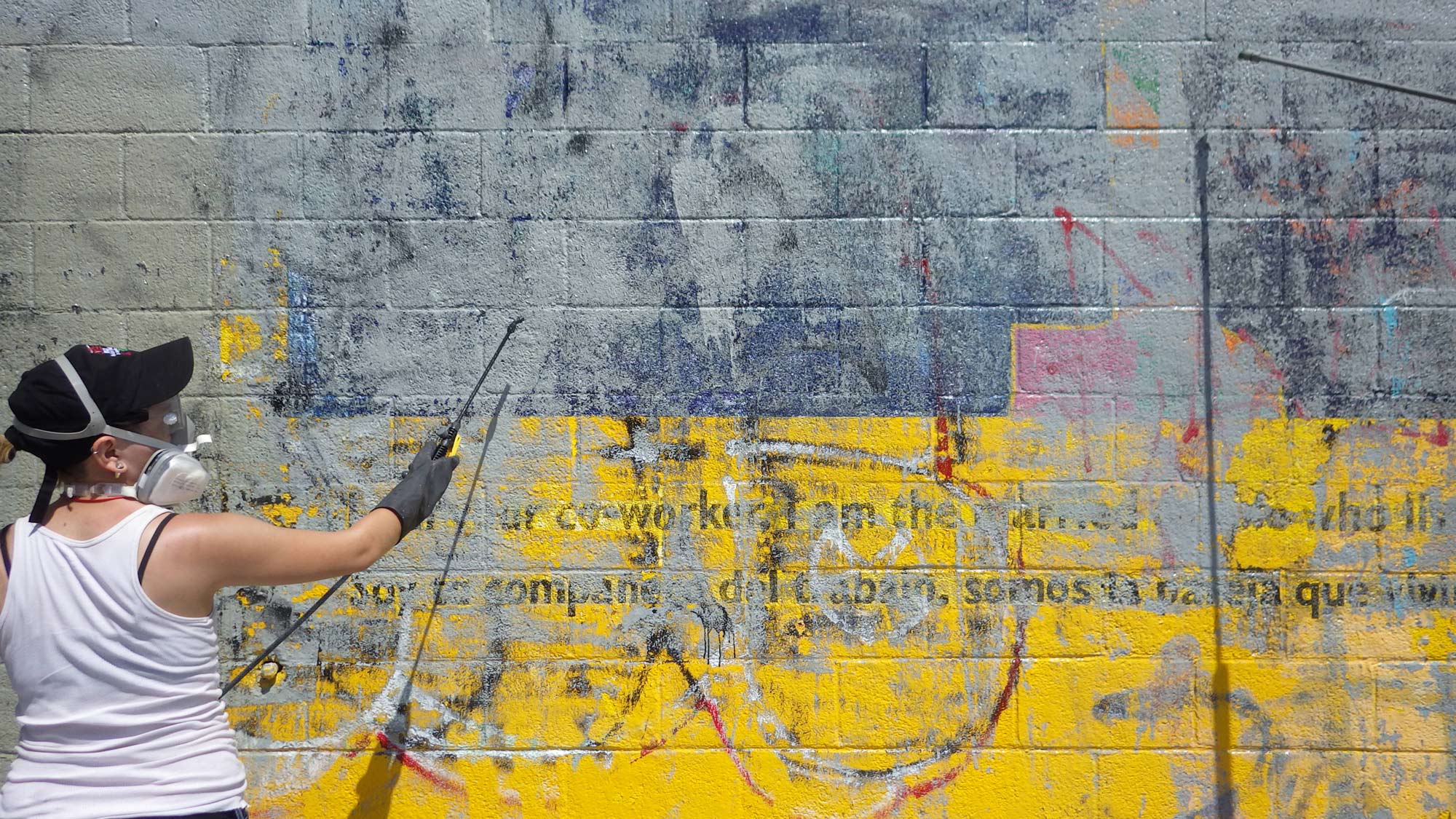 Posted on
---
"I've been asked to restore a mural I painted 10 years ago and since then a coating that was applied by a local graffiti maintenance crew has turned opaque. The coating will no longer remove new vandalism, so they have resorted to painting over the lower 5 ft of the artwork!" -Artist
This is one of the most common questions we receive from artists, and it is a truly difficult situation to be in. Without knowing exactly what materials are on a mural, attempting to remove a failed coating can involve using dangerous chemicals, and even cause serious damage to the artwork or harm to oneself.  
While all of our recent murals follow strict material and coating guidelines, some of our more longstanding murals, or artworks that we are hired to restore, may initially have incompatible or inappropriate coatings. These clear-coat materials include non-sacrificial and semi-sacrificial coatings, urethanes or polyurethanes, acrylic-based, silicone-based, nano-coatings, or solvent based coatings. Coatings should always be sacrificial and easily reversible without the use of harmful chemicals that can affect the artist, the applicator, or the environment. 
We developed the "Controlled Delamination Technique" to address the removal of harsh non-reversible coatings without the use of dangerous chemicals. This technique requires plenty of testing and while this document describes using Transgel, other solvents like Vanish, Heritage, and Sensitive Surface should also be considered. 
Some of our murals, like the example before, will have multiple layers of paints and coatings, so repeating the treatments with different temperatures and concentrations will also increase your success. Ultimately, with careful documentation, testing, and controlled applications, you can approach a mural emergency with confidence! 
SPARC OFFICIAL GUIDE: CONTROLLED DELAMINATION
The Controlled Delamination procedure outlined below can be used to remove unwanted paint layers, urethanes, and clear acrylic coatings. Transgel is reserved for the removal of clear coats such as urethanes, polyurethanes, and acrylic coatings. It saves the technician from using harsh solvents like toluene and xylene. Transgel includes benzyl alcohol and ethanol, which can cause irritation on the skin and eyes, and the gastrointestinal tract if ingested. Plenty of precaution must be used when using Transgel. This application guide includes an optional technique using heat through a pressure washer with a boiler. Heat speeds up the delamination process while halting the Transgel's chemical reaction. It also gives the technician the ability to fine tune the delamination depth and rate.
Materials needed:

Pressure Washer (Hot Pressure Washer optional)

Access to water source

Two buckets of water

Transgel (80-100 sq ft per gallon when using as controlled delamination)

Blue tape or medium tack masking tape

Sharpie marker

Timer or watch

Digital Camera or smartphone for documentation

Sharp Pallet knife

Exacto blade

Thick nitrile gloves, splash goggles, long sleeve shirt, pants, and hat to protect against chemical splatter

Seran Wrap or plastic



Step 1 - Documentation and Pre Testing
Document the mural well with a high resolution camera. If one is not available, take tile photographs of the mural under suitable lighting conditions.
We highly encourage the technician to administer a pretest on a small 1-2 inch square of the mural. Take a timed measurement and apply a small brush stroke and agitate to see the rate of delamination. This will give the technician an initial sense of how to space out the interval tests. For example, if the coating reacts immediately, the technician may choose to narrow the intervals between tests. Likewise, if the coating is slower to react, the technician may want to extend their intervals. Once a sufficient reaction is reached, rinse off the test area with plenty of water.
Step 2 - Setting up the Test Tiles
Choose 9 locations of similar paint quality and aesthetic, spaced out enough that pressure washing each location is easily done without affecting the other locations. Depending on the size of the mural, determine the size of the square between 6-12 inches in size.
Start by taping off three sets of three small squares for testing, preferably in an area of the mural that would be easy to repair.  Mark them in 5-15-25 minute intervals. One set for 80°F, one for 100°F and one for 120°F. Avoid going over 140°F as higher temperatures can affect acrylic paints, especially glazed colors. Use the table below to track the results. Keep written notes and photo documentation. Each time and temperature interval is a suggestion and will need to be fine tuned by the technician depending on the composition and thickness of the coating.
TRACKING CHART (Fine Tune as needed)
80°F

100°F

120°F

5 min

15 min

25 min

5 min

15 min

25 min

5 min

15 min

25 min

Results

 

 

 

Results

 

 

 

Results

 

 

 

Results

 

 

 

Results

 

 

 

Results

 

 

 

Results

 

 

 

Results

 

 

 

Results

 

 

 
Step 2 - Application
Apply Transgel with a solvent rated brush in each test tile and agitate. Let stand for the respective time, making sure that an equal quantity of the solvent is applied on each area. Rinse off Transgel with pressure washer at the respective temperature and time. *Make sure you wear gloves and protective eyewear to avoid skin contact when applying Transgel.
Step 3 - Making Adjustments
Power wash each test tile at each respective temperature. Assess what the most effective time/temperature application for removing the desired coating. Compare the quantity of unwanted coating that is removed to the amount of undesired chemical reaction on the original artwork. Sometimes there may exist multiple coatings, which would require several applications of Transgel with a measured time/temperature.
Initially, we found it strange that beneath the delaminated yellow paint, there was additional graffiti. Upon closer inspection, the yellow was in fact another attempt at covering previous vandalism and additional coating! Visible is a clear coating on top of the yellow chip, and grey spray paint behind it. Always inspect the chips that you are delaminating for clues on how to approach the next layer. Having digital documentation will also help determine whether a paint color that is just not quite right is either part of the original artwork or a patching attempt.
3.A If too much of the original mural is affected by the chemical reaction, do one or a combination of the following in sequence:
Option 1: Reduce temperature

Option 2: Reduce application time

Option 3: Reduce quantity of Transgel
3.B If you find that too little of the unwanted coating comes off during the rinsing process, do one or a combination of the following in sequence:
Option 1: Increase application time. This is the most desirable adjustment as longer time with agitation can improve results.

Option 2: Increase temperature by an increment of 5°F.

No higher than 140°F on acrylic paint. This is a less desirable adjustment as small temperature fluctuations can harm the original artwork. We recommend doing Option 3 if increasing temperature by 5°F does not have an immediate result

)

Option 3: Increase number of applications of Transgel (repeat the treatment on the same test tile)
Step 4 - Choose Application Interval and Begin Treatment
Assess the progress. Depending on how many coatings the mural has you may need to repeat the treatment. The controlled delamination process will cause the coating to repel from the mural paint as shown here. If the binder in the mural has deteriorated, or if some of the pigments have oxidized beneath the coating, it is likely that you will see the delaminated material tinted with some pigmentation or dye. If too much pigmentation is coming off with the coating, refer to Step 3.A. Choose the final application treatment and work in manageable sections. Repeat the treatment as needed or until a majority of the unwanted coating is removed. Sometimes the intervals may need to be adjusted as different colors can bind differently to coatings.
Final Notes:

Below you can see an in-progress photograph of the removal that includes both the treated area to the upper right, and the untreated coated area to the upper left. The controlled delamination technique has recovered the pigment's contrast and vibrancy. The left section is milky and faded while the right side is more vibrant. The right area of the photograph has yet to be consolidated with MuralShield, which will restore additional color vibrancy. Allow mural to dry for at least 24 hrs before applying MuralShield. For more technical information, contact SPARC.
PURCHASING DIRECTLY FROM MURALSHIELD.COM SUPPORTS OUR MURAL CONSERVATION AND ART EDUCATION PROGRAMS. THANK YOU FOR KEEPING SPARC LIT!

 
Social and Public Art Resource Center (SPARC)
ART | COMMUNITY | EDUCATION | SOCIAL JUSTICE | SINCE 1976
685 Venice Blvd., Venice, CA 90291
Website #1: http://www.SPARCinLA.org
Website #2: http://www.DigitalMuralLab.com
Sign up to our mailing list